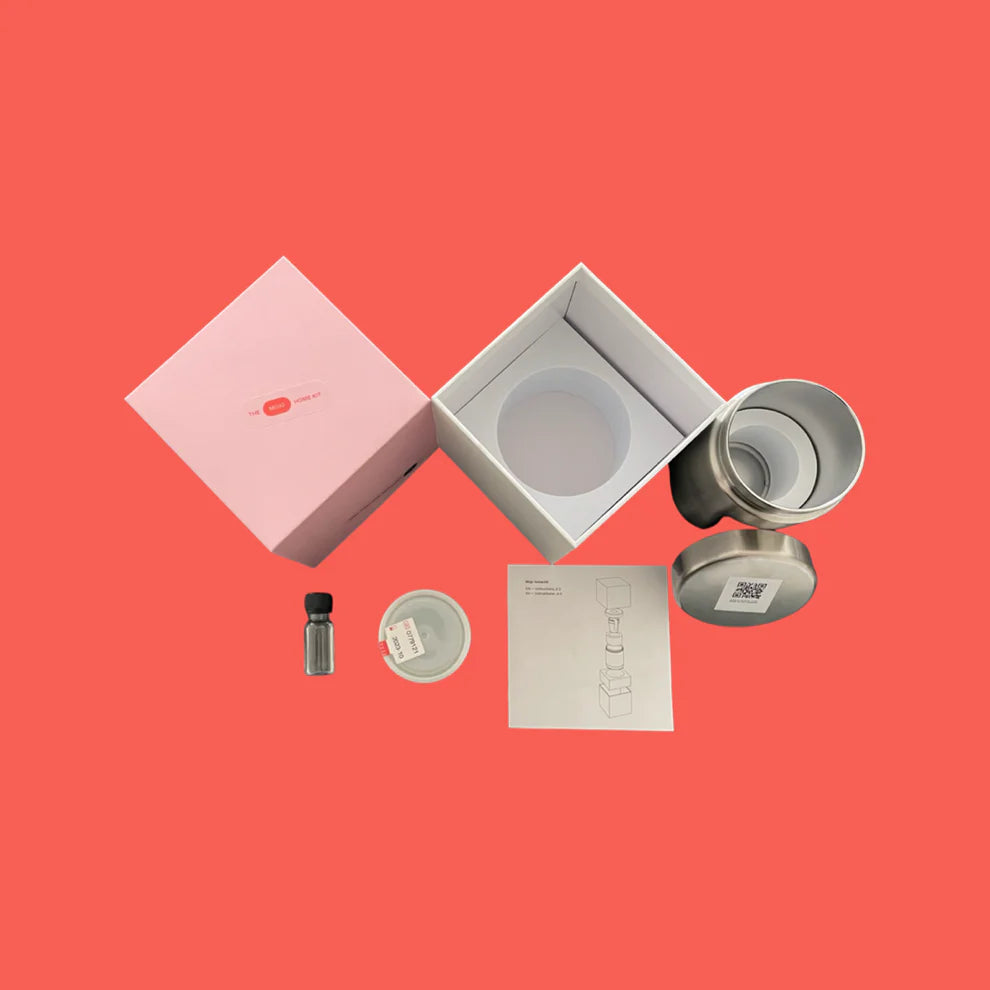 Fast, reliable, and affordable sperm testing from home
Easy, discrete sperm test collection from the privacy of your home
Clinical grade analysis with 97% accuracy
Digital results within 48 hours of sample analysis
No months-long waiting times, no waiting rooms
Fraction of the cost of clinical consultations
Trusted by the UK's leading health providers
No referral required
Shop Mojo Kits
Choose Your Mojo Kit
Solutions to meet your needs, whether you're struggling to conceive or just interested in understanding your sperm quality.
Why choose Mojo over a traditional clinic?
Key sperm metrics that we analyse
Total sperm number

The number of sperm present in a semen sample. Higher numbers of sperm improve the chances of natural conception and also increase the success rate of fertility treatments.

Sperm concentration

Refers to the number of sperm in each milliliter of semen. It is a critical measure of male fertility, and higher concentrations increase the chances of successful conception, both naturally and through assisted reproductive technologies.

Volume

Semen volume is the total amount of fluid, including sperm, produced during ejaculation. A healthy volume ensures the best chances of sperm reaching the egg for fertilisation.

Motility

The ability of sperm to move forward efficiently. Higher motility increases the chances of fertilisation. Poor motility may indicate underlying medical conditions or issues with sperm development.

Morphology

Sperm morphology refers to the shape and size of sperm, which is important for successful fertilization of an egg. Abnormalities in morphology may indicate genetic issues or poor sperm development and have been linked to miscarriages and recurrent miscarriages.
FAQ
What are the key parameters measured by Mojo's at-home sperm analysis?

Mojo's at-home semen analysis evaluates up to 22 key biomarkers to provide a comprehensive assessment of sperm health. Some of the key parameters we measure include:

Semen volume: The amount of semen produced during ejaculation
Sperm concentration: The number of sperm present in one milliliter of semen
Sperm motility: The percentage of sperm actively moving
Total motile sperm count: The total number of motile sperm in the sample
Sperm morphology: The size and shape of sperm

Our advanced analysis covers all 22 biomarkers established by the World Health Organization to provide accurate and reliable results. With Mojo's at-home semen analysis, you can monitor your sperm quality and take proactive steps to improve your chances of achieving a successful pregnancy. Our analysis is not only convenient but also highly accurate, with a 97% accuracy rate.
What is a sperm analysis, and what does it tell you?

Since the 1930s, fertility specialists have developed and standardized the sperm analysis test to assess sperm quality, which is crucial in determining fertility issues. The World Health Organization (WHO) has established standards for the test, including 22 biomarkers that measure key sperm markers such as semen volume, sperm concentration, total number, motility, and morphology.

While the sperm analysis test is not a direct measure of fertility, it can provide valuable information on the likelihood of achieving a pregnancy and serves as a starting point for further investigations. Mojo's at-home sperm test includes all the key biomarkers and thresholds set by the WHO to evaluate sperm quality accurately.

In case of any abnormalities detected by the test, our team of fertility experts can offer personalized advice to improve sperm quality and identify any underlying problems that may be impacting fertility.
How do return my semen sample to Mojo while ensuring that it remains high quality during shipment?

Mojo's at-home sperm test uses a special transport media that protects and extends the life of your sperm during shipping. To return your sample to our lab, simply follow these steps:

Package and return your kit: Use the packaging materials included in your kit to package your semen sample in the original shipping box. You can then schedule a same-day pick-up for your sample to be mailed overnight through one of our shipping partners or drop it off at a participating location.
Analyze your sample: Once we receive your sample at our London hubs, our qualified fertility clinicians analyse it according to the WHO guidelines using a CE-certified and peer-reviewed AI-powered microscope. Our kit is designed to protect your sperm's quality for up to 48 hours, and we conduct a full test on arrival to ensure everything went smoothly in transportation.
Get your results: Your results will be available on your online dashboard within 48 hours. If you choose the consultation option, you can schedule a video call with a fertility specialist to review your results and discuss how they relate to your fertility. All your information remains anonymised via your CLIENTID and lives on HIPAA-, GDPR-compliant servers.
How long before a sperm test can/should I ejaculate?

Studies have shown that repeat and frequent ejaculation leads to the release of competent sperm that have not been stored in the testes for long enough.

To ensure the sperm analysis results can be assessed against existing data and reports relating to sperm function or pregnancy, the sperm sample should be collected after a minimum of 2 days and a maximum of 7 days of sexual abstinence. This ensures that advice can be given on chances of pregnancy, further testing/investigation, or type of assisted conception if that is needed.

If repeat analyses are required, the number of days since the last ejaculation should be as constant as possible at each visit.
Why choose a Mojo sperm test?

Mojo's at-home male fertility test is the only thorough male fertility test you can take from the comfort of your home to test your sperm health.

The Mojo male fertility sperm test is designed for people with sperm who want to understand their fertility and have peace of mind when trying to start their family.

This test is equivalent to taking a test with a fertility clinic - without leaving your home and awkward waiting rooms, sample cup in hand. It is an easy way to test, understand and - if needed - improve your sperm at an affordable price.

Thanks to Mojo's proprietary AI technology that has been developed in compliance with WHO standards and with the scientific team that co-developed these standards, you get 97% accurate results in 48h.

The test results are easy to understand and cover the essential parameters that are clinically and scientifically required to assess your ability to conceive.
How accurate is at-home fertility testing?

Mojo's at-home sperm testing kit uses a proprietary transport package developed with our scientific partners. Our package, including our clinically-validated transport solution, preserves the quality of the sample for more than 24h. With sperm shipment, you may experience a 10-20% drop in sperm motility, a tiny error margin with nearly no effect on test efficacy.

What enables Mojo to offer clinical-grade sperm tests is that we operate our own labs and use our purpose-built AI-powered sperm analysis platform. Our AI performs at 97% accuracy with less than a 20% error margin — validated against WHO standards & ISO 15189-compliant labs such as the Karolinska Institute in Sweden.
What's the difference between an over-the-counter sperm count test and a complete sperm analysis?

An over-the-counter sperm count test typically only measures the sperm count or the number of motile sperm, providing incomplete information on sperm health with questionable accuracy.

On the other hand, a complete sperm analysis, like Mojo's at-home semen analysis, measures a comprehensive set of 22 biomarkers recommended by the World Health Organization (WHO) for a thorough assessment of sperm health.

This includes measurements of

volume of semen,
quantity of sperm (concentration
total number of spermatozoa),
motility
morphology.

A complete sperm analysis provides a more accurate and complete picture of sperm health and can help identify potential fertility issues or other conditions affecting male reproductive health.

Mojo's test is an alternative or complementary option to those in clinics, providing expert consultation and a 97% accuracy rate, all from the comfort of your own home and at a fraction of the cost of a traditional clinic visit.